The label MOLOKO+
was founded in 1996 upon the release of the CD
The Making Ov Rakija
by Badphish.
The German Label with some fine Industrial, IDM and Ambient music is going through a metamorphosis into a publishing house with print and audio releases …

Infamis: Heimat und Verwesung

Am 29.02. 2020 erscheint das neue Infamis-Album Heimat und Verwesung
(LP/CD: PLUS 117; digital/streaming: FUEGO)
7 Jahre gingen ins Land und die See seit der letzten Frischzellenkur durch Wim Wenders und
Im Westen Der Himmel
(Wenders Music, 2013). Zwei 7-inches, zweidrei Filmchen, einige misslungene Studioversuche und nen kleinen Sack voller Konzerte später ist schon 2020 und wir haben doch nochmal versucht, was zu versuchen. Unter der sehr respektvollen Mithilfe des "Parachute Pony Tonstudio Wahlgeschwisterpaares" Max Braune und Sven Ruschka haben wir im Laufe des letzten Jahres 11 Lieder aufgenommen von denen es 10 zur Veröffentlichung geschafft haben.
Unzählige, jahrelange Debatten und Versionen des WasWieWerWieso und Ob überhaupt mündeten erstaunlicherweise in einer 6 tägigen Session im graukalten November 2019, die allen Beteiligten so gut von den Händen und Köpfen, aus den Bäuchen und Herzen ging, dass wir die sich anschliessenden Produktionsmacher vom Mixing übers Mastering bis zur Pressung, Druck und Labelarbeit scheinbar mitgerissen haben, so dass der recht ambitionierte Veröffentlichungstermin, der 29.2.2020, gehalten werden kann.
Helden/Lately
(limitierte 7"/MOLOKO+) war das 1. Ergebniss dieser Arbeit. Zwei Tracks, die leise und ein wenig traurig darauf hinweisen, dass wir überall nur Gäste sind, auch wenn wir glauben die Party auszurichten. Nun also das Album
Heimat und Verwesung
, wobei "unsere Verwesung" auch die Verwaltung der mannigfaltigen Prozesse, die einem dabei so einfallen, bedeuten könnte.
Die Lieder sind Gewächse der letzten Dekade, die über kurz oder lang in unserem Humus keimten, aber immer nur wuchsen ohne zu blühen. Wir haben Töne gemalt, gestreckt und amputiert, nach Wörtern gebuddelt, einige gefunden und sie liebevoll in die Dehnungsfugen gelegt. Jetzt stehts, wackelt und hat Luft. Jetzt sind sie frei von uns und von der Leine, endlich allein, um in irgendeine Schublade zu gehören oder alfabetisch geordnet in 1 Regal, glimmen dunkelbunt bis schwarzweiss und sind alles, was wir zusammen aus ihnen rausholen konnten … und können schließlich vergessen werden und/oder lange wesen.
Bitte unbedingt laut abspielen!
CUT-UPS@60

London/Paris, September 2020


EBSN Special Conference
2020 will be the 60th anniversary of the first publications using the cut-up methods initiated by William Burroughs and Brion Gysin at the Beat Hotel in Paris and developed in London throughout the 1960s. To mark this landmark in cultural history, CUT-UPS@60 will be an EBSN Special Conference, held in London and Paris, September 7-11, 2020.
With two days of events in each city, the conference will be a major multidisciplinary occasion to examine the past and explore the ongoing legacies of the connections that Burroughs' work in particular made between artistic and social radicalism. In Paris, sessions will be in French as well as English, while some sessions will be bilingual.
We envisage talks, workshops, exhibitions, and performances in film and music (remix, sampling, mashup), literature and the arts (collage, chance), politics (détournement as ideology critique), sexual identity (therapeutic deconditioning), philosophy (deconstruction of language), social movements (participatory activism), the occult (divination, exorcism), and science (virus/genetic research).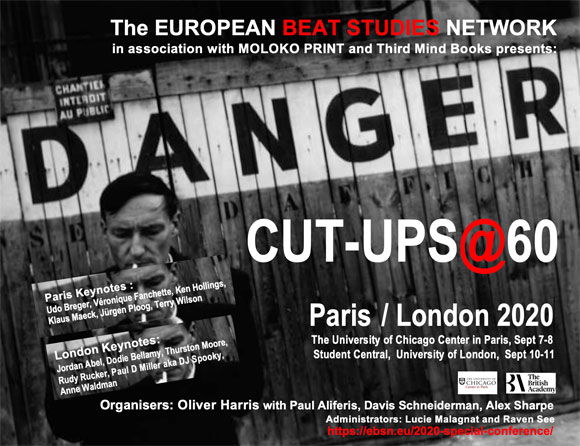 The legacy of cut-ups invites attention to the A to Z of writers, musicians and filmmakers whose work they informed and inspired, from Kathy Acker to Jon Zorn, via Sinclair Beiles, David Bowie, Jan Herman, Harold Norse, Claude Pélieu, Jürgen Ploog, Carl Weissner, Terry Wilson and many more.
The conference looks to the future and will also be a major retrospective, featuring a triple book launch: a cut-up trilogy of incendiary pamphlets with expanded 60th anniversary editions of Minutes to Go and The Exterminator, and a never-before-seen handbook of guerrilla tactics assembled from recently discovered archival sources, BATTLE INSTRUCTIONS.
Proposals, in English or French, will be invited for any input that carries on the work of or about cut-ups. The call will remain open until January 2020, and further details about venues and dates will be confirmed in due course.
As an EBSN Special Conference, arrangements will be similar but not identical to the usual Annual Conference: there will be an AGM for members and the same commitments to mix critical and creative contributions and to incorporate young scholars and independent researchers into the programme, with concessionary rates for EBSN members, whether or not they are presenting or performing. Most obviously, the specialist focus of this conference will narrow the field of proposals, and the call does not include unrelated work in the broad Beat field.
Co-organisers London: Oliver Harris, Andrew Hussey, Alex Sharpe
Co-organisers Paris: Oliver Harris, Andrew Hussey, Davis Schneiderman
Conference Administrators: Raven See (English); Lucie Malagnat (French)
Initial enquiries:
oliverharris@mac.com
CUT-UPS@60 is being sponsored by the Beat publishers Moloko Print (
molokoplusrecords.de
), based in Schönebeck, Germany, and Third Mind Books (
thirdmindbooks.com
), based in Ann Arbor (Michigan), USA. Their titles are available for sale on their websites. EBSN would like to thank them for their generous support.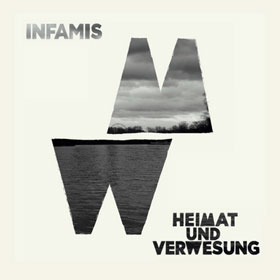 LIVE:
29.02.2020 - Trost Festival
für die am 29sten Februar Un- und Geborenen.

1 Minifestival zur Feier der möglichen Veröffentlichung des neuen Infamis-Albums Heimat und Verwesung
.
Mit Alexander Krohn, Ende September, Golden Dark und Infamis.
19 Uhr, Königsstadt Club, Saarbrücker Str. 23, Berlin Mitte.
Weitere Termine:
05.03. Berlin - Duncker Club
07.03. Eschenbach - Haus Eigenregie
26.03. Magdeburg - DieHo Gallerie
22.12. Hannover - Cafe Glocksee
23.12. Berlin - Roter Salon/Volksbühne
"Wir treffen auf Überlebende einer ostdeutsch geprägten Empörungspoesie, die mit Wucht und Unerbittlichkeit mahnt, wo andere schon aufgegeben haben."
Christine Heise
"Last night I felt like in the famous club scene of Wim Wenders' 1987 movie
Wings of Desire
. But it was not Nick Cave on stage but Infamis and Wim was in the audience, dancing. This was way stronger, this was Sisyphos making music … Don't miss the next concert!"
Boris Eldagsen